Australia welcomes Mr. Tommy Hilfiger on his first tour down under!
Mr. Tommy Hilfiger toured Australia for the first time, travelling from Sydney to Melbourne from November 13th to November 15th. The visit celebrated the opening of key retail locations across the country, including the new TOMMY HILFIGER flagship store located in the Emporium Melbourne mall. Building on the brand's momentum across the Australian market, Mr. Hilfiger made public appearances in both Sydney and Melbourne at store events, key customer accounts, brand parties and press moments.
"Our brand is experiencing incredible momentum in Australia, with our philosophy of inclusivity and democracy truly resonating with our consumers there," said Tommy Hilfiger. "For many years, it has been my dream to visit Australia. The celebrities, influencers, models and fans I have met at our shows throughout the years have always effortlessly fused their relaxed and laidback vibe with our classic American cool style. I am looking forward to seeing how they bring their unique twist to our brand."
During his visit, Tommy Hilfiger hosted a media and influencer event along Sydney's iconic harbor, where Club Tommy came to life for one night only. In addition to meet and greets, on November 15, 2019, the American designer celebrated the TOMMY HILFIGER flagship store opening at Emporium Melbourne with the "Tommy Hilfiger Fashion Moment," a party featuring over 1,500 guests, including VIPs, friends of the brand, influencers, consumers and press. The tour ended with a VIP dinner hosted by Vogue, in partnership with the National Gallery of Victoria. Guests included local tastemakers from fashion, art and culture.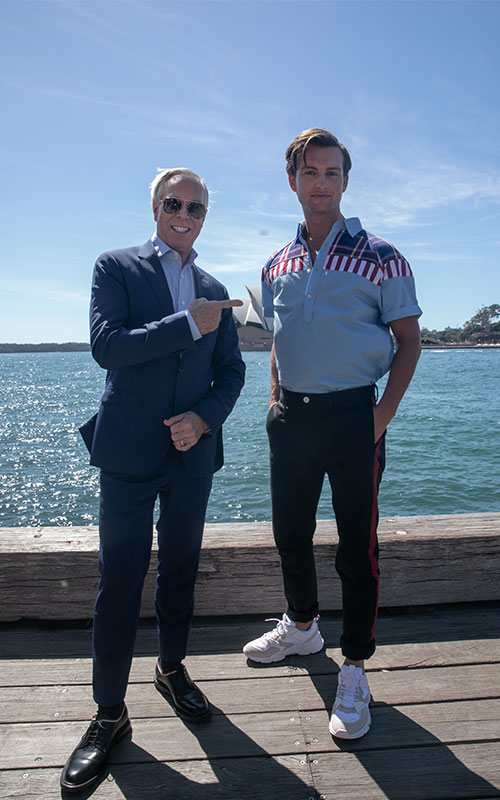 Sydney Media Call: L-R: Tommy Hilfiger, Model/Personality Cameron Robbie – both dressed in TOMMY HILFIGER.